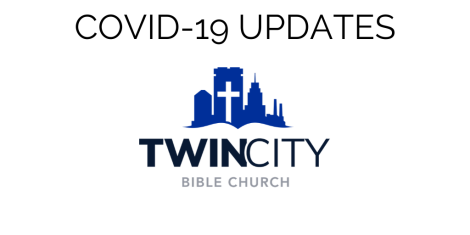 During these uncertain times, we desire to provide as much information as possible to our church family and guests. If you are looking for archived services and other teaching times please go to our Facebook page, YouTube channel, and our livestream page on the website. Please utilize the links on the sidebar of this page to answer any questions you might have. As always, please contact us if you need further information. Please note: all activities listed on these pages are only available through livestream or recordings. We ask that no one outside of essential personnel attend any activities on our campus.
---
Below is a letter from our Senior Pastor, Carey Hardy:
These are certainly interesting times we are facing. The potential spread of the coronavirus makes it necessary that we take more precautions than normal. We at Twin City agree with the wisdom of exercising care to protect ourselves and others. This care includes staying home as much as possible if you are ill, or if you have recently been around someone ill, or if your health is compromised, along with periodically washing our hands. These are really the basic steps we should all expect to follow.
When it comes to cancelling church services, however, the decision is more difficult for the elders. Gathering on the Lord's Day is an important priority in our lives. Other weekly gatherings are also helpful to our walk with Christ, but Sunday worship is a priority we should do our utmost to guard. For that reason, we have chosen to make our decision about continuing or cancelling Sunday services on a week-by-week basis.
The elders do appreciate your prayers as we discuss the ongoing situation and the various options.
More than all these decisions on the practical side, though, we all need to keep something in mind on the spiritual side: God calls us to trust Him, regardless of our circumstances. In fact, these trying times provide us an opportunity to manifest to the world our love for Christ and the power of the gospel in our lives. So in the midst of all the serious issues we are presently facing, let's not forget our duty to set our 'minds on the things above, not on the things that are on earth' (Col 3:2).
Spurgeon's comments from a sermon on Job 30:23 are some helpful thoughts to ponder:
I love that old-fashioned verse--
"Plagues and deaths around me fly
Till he bids I cannot die;
Not a single shaft can hit
Till the God of Love thinks fit."
In the midst of malaria and pest we are safe with God. "Because thou hast made the Lord, which is my refuge, even the most High, thy habitation; there shall no evil befall thee, neither shall any plague come nigh thy dwelling." Beneath the shadow of Jehovah's wing we need not be afraid for the terror by night, nor for the arrow that flieth by day, nor for the pestilence that walketh in darkness. We are immortal till our work is done. Be ye therefore quiet in the day of evil; rest you peaceful in the day of destruction: all things are ordered by wisdom, and precious in the sight of the Lord is the death of his saints. No forces yet in the world are outside of his control. God suffers no foes to trespass on the domain of Providence. All things are ordained of God, and specially are our deaths under the peculiar oversight of our exalted Lord and Saviour. He liveth and was dead, and beareth the keys of death at his girdle. He himself shall guide us through death's iron gate. Surely what the Lord wills and what he himself works cannot be other wise than acceptable to his chosen! Let us rejoice that in life and death we are in the Lord's hands.
In Christ,


Carey Hardy
Senior Pastor