With the uncertainty of our week-to-week schedule, we will update this page frequently so that you know what events are taking place so that you can connect with our teaching times. Until further notice, all events will be closed to in-person attendance but will be broadcast through our website livestream and on Facebook Live.
---
Week of March 30, 2020
Wednesday, 6:45pm - Join us for our weekly Adult Bible Study. We will begin at 6:45pm with a time of singing songs based on Psalms, followed by Pastor Carey teaching an overview of the Psalms. You can find the musical notation for the songs here. The handout Pastor Carey referenced in his teaching can be accessed here.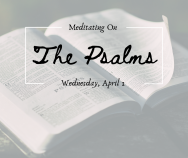 Sunday, 10:45am - Join us for a time of singing, prayer, Scripture reading, and a sermon from Pastor Hardy. To see the notation for the songs we will be singing, click here. You can view the bulletin here.
Children's Ministry - While our kids cannot gather weekly as they usually do, we would like to offer resources for them and their families to use. Grace Community Church has provided a once-a-week Bible lesson video and daily lessons to go along with the video. We trust these will equip parents to continue to train their children in the knowledge of the Scriptures in their homes. Click here for the video and weekly lessons.
To view archives of these teaching times, please visit our livestream page.
---
Upcoming Calendar Event Updates:
Men's Conference has been postponed
Church Picnic has been cancelled
TES Golf Tournament has been moved to September 11