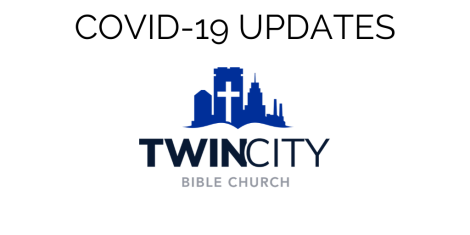 LATEST ELDER UPDATE (July 31, 2020)
As we promised, the elders have continued to evaluate the government regulations that relate to our gathering together for worship. We have read and re-read what the legal requirement in NC is and what it is not. And we have prayed for the Lord's guidance in our discussions. Through this process we have confirmed that the written regulations (including what was most recently released on July 27) exclude churches from the state's mandates concerning masks, distancing, etc.
Based upon our confirmation of this exemption, we are choosing to return to what was our practice a few Sundays ago. This includes:
1. The wearing of masks is optional. The elders do support the wearing of masks when entering the church and when moving about inside. However, when sitting in the Worship Center (i.e. while listening, praying, and singing) you are free to remove them if you desire to do so.
2. We still encourage caring for one another by practicing social distancing, and by congregating for fellowship more outside than inside. Every other row will continue to be marked as unavailable for seating.
3. We will still utilize the sign-up form for Sundays, with a maximum attendance of 135 for each service. If we start to fill all the available seats each service then we will reevaluate this guideline.
4. If you are especially at risk due to health challenges, age, or other reasons, we do continue to encourage you to participate in the services at home via the live stream.
These guidelines allow us to honor the Lord by honoring our governmental leaders. And they also allow us the opportunity of still expressing love and care for one another.
Our decision to revert to what we were formerly doing is not based upon what other churches may choose to do or not do—we respect the decisions other elder boards make in leading their respective churches, but we believe our decision is what is the wisest approach at the moment for both the spiritual and physical health of our local church. We continue to pray for elders in every church to have wisdom in shepherding their own flocks, and we have received word that many are praying for us as well.
In addition to what we do as a church for worship, the elders are also evaluating a way to partake of the Lord's Table together soon, and as well a way to reinstate some level of Sunday School and Care Group meetings.
Some of the important issues connected to these decisions, our state regulations, and our responsibilities as elders will be addressed next Wednesday evening (August 5) in our first of two Q&A sessions. The second Q&A will take place on August 12. Then, starting on August 19, we are returning to allowing attendance at our Wednesday evening Bible studies (utilizing a sign up form that is coming soon).
In all of this, we are certainly grateful for the freedom we enjoy as a church in North Carolina as compared to some other states.
---
During these uncertain times, we desire to provide as much information as possible to our church family and guests. If you are looking for archived services and other teaching times please go to our Facebook page, YouTube channel, and our livestream page on the website. Please utilize the links on the sidebar of this page to answer any questions you might have. As always, please contact us if you need further information. Please note: At this time, you may attend our 9am or 11am Sunday service through an online sign-up form. You can find that form in the drop down menu under our COVID-19 Updates tab. Because churches are exempt from the Executive Orders set forth from our local government, we are not requiring anyone to wear a mask in our services. The elders do continue to recommend the use of masks while in the building except for when you are in your place for the worship service. We will also take precautions to encourage social distancing, including asking that the majority of fellowship takes place outside.