God has gifted many men and women to produce resources that point us to the ultimate source of hope and comfort in the midst of uncertainty - God and His Word. The following are resources that we recommend to supplement your regular intake of the Word of God.
For archived weekly devotionals, SPA women's studies, Iron Men studies, and other helpful videos from our pastors please visit our YouTube playlist page where each of these resources are grouped by subject.
Pastor's Panel: Join Pastors Carey, Danny, Kevin, and Kyle as they discuss the topic of the conscience:
Weekly Devotionals: In order to stay connected with our church family in multiple ways during this unique time in our ministry, our staff pastors will be producing weekly devotionals to encourage you. Here is the latest video:
Update from Italian Theological Academy: Italian Theological Academy (ITA) is in the midst of the country hit the hardest with COVID-19. Hear from Johnny Gravino how the Lord is working through the school to continue ministry and gospel opportunities.
Psalms Resources: Here is the handout Pastor Carey referenced in his teaching time on Wednesday, April 1. You can also access a daily resource that allows you to pray through the Psalms in the month of April, with prayers for morning, midday, and evening.
Weekly Children's Bible Lessons - While our kids cannot gather weekly as they usually do, we would like to offer resources for them and their families to use. Grace Community Church has provided a once-a-week Bible lesson video and daily lessons to go along with the video. We trust these will equip parents to continue to train their children in the knowledge of the Scriptures in their homes. Click here for the video and weekly lessons.
Parenting Teens Series - Straight Talk on Shepherding Teens: Pastor Jerry Wragg from Grace Immanuel Bible Church in Jupiter, FL has been doing a Sunday evening series on parenting teens. You can access past sessions here.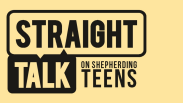 Getty Hymn Sing Every Tuesday Evening: Every Tuesday evening at 7:15pm CT (8:15pm EST) the Getty's will livestream a hymn sing from their home in TN. Here is the link with all the information you need, including a lyric sheet you can download so you can sing along. This would be a great way to refresh your souls while at home! Gather the family and enjoy listening and singing to one another.
Pilgrim's Progress Movie: Right now, you can stream a modern adaptation of John Bunyan's classic for free! Click here to register and to view.
Ligonier Online Event - Made in the Image of God: The reality that we have been created in God's image has radical implications for the Christian life and how we relate to those around us. This livestream event will explore this truth and our God-given calling to serve well in our families, vocations, churches, and communities. These are truly unprecedented days in which we are living. As Christians, we need God's Word to give us strength, for in the days to come the church will have even greater opportunities to proclaim the holiness of God in all its fullness.
How Should a Christian Respond to a Global Health Crisis?: Watch this informative video clip from Dr. Michael Kruger, President of Reformed Theological Seminary in Charlotte, NC
Ligonier Teaching Series: Ligonier Ministries is graciously providing all of their online resources for free at this time. Dig deeply into topics like theology, church history, Christian living, and more with respected teachers.
Sermon - The Promise of Peace in a Worried World: Enjoy access to a sermon preached on March 15, 2020 by Pastor John MacArthur.
A Christian Response to the Coronavirus: This is a helpful article by Warren Peel at Banner of Truth.
Viruses, Your Immune System, and the Glory of God: This is a helpful article by Eric Davis at The Cripplegate.
Thinking Christianly About the Coronavirus: This is a helpful article by Tom Ascol.
15 Readings for Anxious Days: The staff at Westminster Bookstore have selected 15 chapters from various books to help us slow down and understand ourselves and God in these uncertain times.
CH Spurgeon's Morning and Evening: Enjoy daily readings from this timeless devotional. There is also a daily podcast that reads the daily devotionals if you prefer that method.
Music: We each can testify that truths set to song often stick with us and come to mind more easily than things we have read or heard spoken. Here are some links to purchase or listen to music that will affirm the truth of God's Word to your soul. Many of these artists stream their music on platforms like Spotify, Amazon Music, Pandora, and YouTube.
Featured Song: Is He Worthy? (Andrew Peterson)
Scripture Lullabies (great for quiet times!)